---
What Is Futsal?
Futsal is the official five-a-side indoor soccer game and the only indoor soccer recognized by
FIFA
.It is a game played around the world as many of today's world stars began their youth soccer by playing Futsal. The Brazilians attribute their world soccer success to Futsal. Pele, Zico, Socrates, Ronaldo and Bebeto grew up playing Futsal and credit Futsal with developing their skills.Futsal is a five-a-side game, normally played on a flat indoor pitch with hockey sized goals and a size 4 ball with a reduced bounce. It is played to touchlines and all players are free to enter the penalty area and play the ball over head-height. Games are 20 minutes per half, played to a stopping clock (similar to basketball) with time-outs permitted.Playing Futsal allows you to touch the ball nearly twelve times more than playing football. The game places considerable demand on technique, movement, tactical awareness and fitness. Futsal is a great skill developer, demanding quick reflexes, fast thinking, and pinpoint passing. The speed of play is such that you are forced to make quicker technical and tactical decisions.
Why Play Futsal?
Fun - Players enjoy the challenge of playing a fast paced skill oriented game that tests their abilities.
Safety - Futsal is much safer than traditional indoor soccer. Indoor soccer can be a violent game with extremely physical play such as players being "boarded" into the walls. The rules of Futsal restrict physical play, and there are no walls to run into.
Ball Touches - In a statistical study comparing Futsal to indoor soccer with walls, Futsal players touched the ball 210% more often than indoor soccer players.
Ball Control - With Futsal, the emphasis is clearly on control and technique. Without control and technique you cannot expect to succeed in Futsal. With limited space, boundary lines, and constant opponent pressure, improved ball control skills are required.
Speed of Play - With limited space and constant opponent pressure, players learn to play fast to survive.
Continuity of Play - Action is continuous so players are forced to continue play in support of their teammates.
Mandatory Support - Without a wall as a crutch, players must make supporting runs when their teammates have the ball. With only 4 field players on the field and always needing the proper support positions offensively and defensively, a player will instinctively learn better spacing, passing and general tactics from playing Futsal. Players without the ball must move to space and must truly support their teammates.
Framing the Goal - The goal and Penalty Area are a perfect size for narrowing the angle so teams learn to frame the goal to score goals.
Knowledge - With four court players and all the basic options of the outdoor game, players' understanding of the game is enhanced.
Encouraged Learning - The rules of Futsal encourage playing a skilled game by punishing all physical contact fouls.
Rewards - Futsal rewards the same basic skills, tactics and knowledge of the game as the 11v11 outdoor game.
Insurance - Every player, coach and referee registered with the indoor league is covered by an insurance policy. Very few indoor soccer facilities offer their players any insurance coverage at all. All youth players will be insured through the Vermont Soccer Association, and all adults (19 years old and older) will be insured through the Vermont State Soccer Association.
Cost - Many people think the cost of indoor soccer is expensive, but when compared to other activities it is actually quite reasonable.
Compare Eleven-a-side Football, traditional Five-a-side and Futsal
| | | |
| --- | --- | --- |
| Traditional 5-a-Side | Futsal | Eleven-a-Side |
| Five players on court – limited substitutions. | Five players on court – rolling substitutions | Eleven players on pitch – maximum three substitutions |
| No By or End lines – use rebound boards. Ball constantly in play. | Played to lines. Ball is returned to play with a kick-in. | Played to lines. Ball returned to play with a throw-in. |
| Use of indoor or Astroturf pitch. | Use of wider and longer indoor pitch. | Use of outside grass pitch. |
| Only Goalkeepers permitted to enter penalty area. | All players allowed to enter the penalty area. | All players allowed to enter the penalty area. |
| Use of restriction to the height of the ball. | No height restriction on ball. | No height restriction on ball. |
| Use of rectangular goals. Use of football size 5 for adults. | Use of square goals (3m by 2m) Use of size 4 Futsal ball (30% reduced bounce) | Use of rectangular full-size goals. Use of football size 5 for adults. |
| Unlimited fouls. | Five foul limit. No wall for direct free kick from 10m after fifth foul. | Unlimited fouls. |
Compare this to going to the movies along with the customary snack and drink, the price is very reasonable and healthier.
If you are serious about skills and technique development, Futsal is the superior activity. If you haven't had the opportunity to see a Futsal game, check it out!
---
The History of Futsal
The origins of futsal can be traced back to Uruguay in 1930, where, amid the euphoria that greeted the country's victory at the inaugural FIFA World Cup™ on home soil, there was a football being kicked on every street corner in the capital Montevideo.
Juan Carlos Ceriani, an Argentinian physical education instructor living there at the time observed many youngsters practising football on basketball courts owing to the shortage of football pitches. It was there and then that the idea for a five-a-side variation came about.
Borrowing from the rules of water polo, handball and basketball, Ceriani drew up the original rules of game, which were quickly be adopted across South America. In 1965 the Confederacion Sudamericana de Futbol de Salon (South American Futsal Confederation) was formed, consisting of Uruguay, Paraguay, Peru, Argentina and Brazil, the latter having quickly developed into a hotbed for the sport.
Futsal crossed the Atlantic to Europe along with the many Spanish and Portuguese immigrants returning from South America at that time. The continued growth in the sport then led to the foundation of FIFUSA, the Federacion Internacional de Futbol de Salon (International Futsal Federation), comprising of Argentina, Bolivia, Brazil, Paraguay, Peru, Portugal and Uruguay.
In late 1985, before the sport had the kind of appeal it has today, Joseph S. Blatter, then FIFA General Secretary, and Joao Havelange, FIFA's then President, decided jointly to incorporate futsal into the global football family.
To this end, Blatter entrusted his assistant, the Chilean-Spaniard Miguel Galan Torres, and Havelange's advisor, the Brazilian Jose Bonetti, with the task of bringing their goal to fruition. At their first meeting, the two men came to realise that there was neither uniformity in the rules of the game, nor in the pitches or balls being used.
In January 1986, Galan Torres and Bonetti began work in earnest. Using football's Laws of the Game as a template, they made the necessary modifications for the five-a-side version. Among other decisions taken was one to have the pitch and goal size identical to those of handball. The also incorporated several suggestions from FIFUSA and even borrowed from the sport of ice hockey. Finally, after a long period of preparation, the provisional Laws were completed.
To see how the rules would stand up in practice, it was necessary to road-test them, and in this regard the contribution of Pablo Porta Bussons, the then President of the Spanish Football Association (RFEF) and a member of FIFA's Executive Committee, was vital. It was Porta Bussons who lobbied within the RFEF for the need for a trial championship. After received approval, Porta convinced his colleague, the Hungarian Gyorgy Szepezi, that the Hungarian Football Association should organise the first test tournament. The event, which featured Belgium, the Netherlands, the USA, Spain, Peru, Brazil, Italy and which was won by the host nation, turned out to be a success and proved that the Laws worked in practice.
Shortly afterwards, at a meeting in the old RFEF offices in Madrid attended by representatives from various countries, the Laws were modified further to take into account observations from Hungary. It was then that the RFEF put themselves forward to host the second trial tournament. Their request was approved and the event was held in La Coruna, El Ferrol and Santiago de Compostela in February 1987. The attending nations were Belgium, Brazil, the Netherlands, the USA, Portugal, Hungary and Italy, with the hosts defeating Belgium in the final.
In September 1987, Galan and Bonetti proposed holding a third test tournament, this time in South America, where the sport had begun. Brazil hosted the competition, inviting Chile, Peru, Argentina, Belgium, the Netherlands, Portugal, Spain, the USA and Paraguay. The host city was Brasilia and it was Paraguay who were eventually crowned champions. The Laws had more than met expectations, and so it only remained for them to be officially approved by FIFA's Executive Committee.
In the wake of Brazil 1987, Galan met with Blatter and reported that his work had been completed and that the final step needed to establish futsal as a fully fledged discipline was to give it its own World Cup. Blatter responded by throwing his weight behind the organisation of the inaugural FIFA Futsal World Cup.
Galan began the search for a host nation. The head of futsal in the Netherlands, Tom van der Hulst, vouched for his association's ability to organise it, and the Dutch FA's formal bid was approved by FIFA's Executive Committee. The tournament took place in January 1989 in the host cities of Amsterdam, s'Hertogenbosch, Arnhem Leeuwarden, Utrecht and Rotterdam, where the final was held. Brazil became the first world champions by defeating the host nation 2-1.
The Seleção also won the next two editions, in Hong Kong in 1992 and Spain in 1996. However, it would be the Spaniards who deservedly relieved the Brazilians of their crown at Guatemala 2000, before successfully defending it four years later in Chinese Taipei. The FIFA Futsal World Cup is know the fourth longest-running FIFA tournament.
Today, futsal is a firmly established part of the footballing firmament and, with over two million registered players (men and women) worldwide, has been one of the fastest growing sports in recent times. With the game's potential popularity truly limitless, it is sure to help football achieve its social goals right across the globe.
---
5 Rule Changes for Futsal
Futsal has gone through several rule changes over the years. Firstly it was to unify the different variations played across the world and, more recently, to improve the game. The size and weight of the ball was standardised with a size 4 being decided as the best choice for TV coverage. The regulations regarding the goalkeeper player (when the goalkeeper helps with the attack in the opponent's half) have been adapted to discourage this tactic being applied too frequently which can lead to less dynamic action and a reduced spectacle.
These modifications are possible because futsal is a relatively new and developing sport which is not so entrenched in tradition and there exists a desire to make it as attractive as possible for players and fans. Below are 5 rules I would change to enhance the game.
1. Throw Ins
For the 2006/2007 season restarts with the feet were introduced whereas previously throw ins were taken. Throw ins produced many spectacular goals. Any fan loves to see a perfectly executed volley.
The introduction of kick-ins has resulted in fewer goals and less stunning ones. In the season after kick ins were introduced the average goal per game went down 6% during the regular phase of the Spanish Premier Division.
For this reason I would reintroduce throw ins when the ball goes out on the sidelines. By doing this we would again see these eye-catching and beautiful goals. However I'd maintain corners taken with the feet. This would retain this aspect of the game and would also standardise the rules with football which helps when introducing people to the sport. For those that disagree I have made the following video to try to change your mind!
2. Game Duration
Two halves of 20 minutes stop clock with a 15 minute half time interval means the average futsal match lasts about 1 hour and 15 minutes. This is a little short compared with most other sports such as basketball, football, rugby and tennis.
Since 2009 the Russian league has used 25 minute halves after claiming that surveys showed supporters would like to spend more than the 90-100 minutes at a match. We should research what supporters prefer.
I think the same duration as used in NBA basketball would work well with four quarters of 12 minutes stop clock. Intervals would be a 2 minute break between quarters and 15 minutes for half time. This would result in a high intensity being maintained during the game and increasing the duration of a match.
3. Tactical fouls
When an attacker is alone against the goalkeeper there are too many deliberate fouls from a recovering defender. The player makes a cynical and tactical challenge to prevent the attacker from progressing knowing that they will receive a yellow card and a free kick which offers a much reduced possibility of a goal being scored.
The frequency of these fouls in this type of situation demonstrates how the outcome is heavily weighted in favour of the defence. Seeing a goal scoring opportunity purposely denied is not enjoyable for spectators and not fair.


I am not sure if this is an issue with the rule or its interpretation. However I suggest if the foul is deliberate the player should be shown a red card. There would be some issues with determining whether the foul was on purpose or not and for this reason I would have a red card issued only if it clearly was.
A more interesting alternative would be for player to receive a yellow card but award the attacker a free kick with no wall or a 10m penalty (as is currently the case with the 6th accumulated foul). Either of these options would be a solution and would lead to more goals scored, making the game more entertaining.
4. Slide Tackle
Slide tackling was recently allowed after previously only being allowed to slide in order to block.  This was changed because of the difficulty for the referee in determining between a block or a tackle, though I rarely found this to be an issue.


I think the approval of slide tackling has caused a more significant problem of attacks being disrupted too frequently by slide tackles. In futsal the players are always in close proximity and it such a high tempo game that the opportunity to make a slide tackle appears too often. Further the hard surface can result in a painful landing and possible injury risk for the attacker.
Therefore I would return to only allow sliding to block though we could just remove sliding altogether. The reduction of sliding would decrease the number of interruptions when the mop is used to clear the court of sweat.
5. Deciding a tie in knockout competitions
Currently most competitions use two extra 5 minute periods followed by penalties to decide a knockout fixture. I find that in these 5 minute periods both teams usually play very tentatively and cautious. This is illustrated through the fact that it is rare to see the goalkeeper player introduced when the scores are level.
Neither do I think penalties are a good way to decide a game. Chance is too much an important factor and they are rarely that entertaining unless the outcome is very important to you. A 6m penalty gives the goalkeeper no real time to react to the strike of the opponent. Thus probability and chance are quite decisive to the outcome. I am not denying skill still has an influence. A team is more likely to win if their attacker is able to smash the ball in the corner or their goalkeeper is able to anticipate the direction of the shot through the body shape of the taker.
My suggestion for a better way to decide a winner would be to introduce three 5 minute periods where each period one player from both sides is removed. So the first 5 minutes would be 4v4, the second 3v3 and the third 2v2. After this we would be forced to decide the winner through penalties though I would anticipate these would rarely be required.
The additional space available to the players would make it easier for the team attacking and thus lead to goals. I think it would also add an interesting tactical element and provide some fascinating duels between players. Do you introduce 2 strong attacking players when in possession and quickly change for 2 better defensive players when you lose the ball?
Once it gets down to 2v2 (1v1 + goalkeepers) it would be especially enthralling and we would see some amazing actions. Imagine the intriguing battle that would have taken place if the recent World Cup final had been decided with Falcao's dribbling pitted against Lozano's power. Or picture the excitement of watching a desperate attempt to rescue a game by a team a goal down employing the goalkeeper player to create a 2v1.


I think this rule change would give futsal a unique aspect that would differentiate it from other sports and provide a very interesting spectacle.
Conclusion
In recent years the average goals per game has continued to decrease. This season it is down 13% in the Spanish Premier Division compared to 05/06. It is often now to have few or even no goals at half time (usually there are a few goals by the end of the game as one team employs the risky strategy of using the goalkeeper player). This reduction is not solely down to the rule changes as the tactical organisation and intensity of defences has improved. However it does not mean we should not address the issue through modifying the rules.
The trademark characteristic of futsal is thrilling and high intensity attacking action and I believe we must foster and promote this quality for the benefit of the sport. This can be achieved through revising the rules. Do you agree with my suggestions? If not, why? What would you change or would you keep everything as it is?
Thank you to everyone who contributed to the debate in the comments section of the last post on the relationship between futsal & football. It included the views of FC Barcelona Youth Futsal coach Miguel Tablado. Make sure you check it out.
 
By Doug Reed
---
Four Nations Tournament
ENGLAND, USA, MALAYSIA AND POLAND TO COMPETE IN NEWCASTLE THIS JUNE
International Futsal
6-9 June 2013
Sport Central, Northumbria University
Click here for fixtures
England bring Futsal to the north-east this summer, hosting a special Four Nations Tournament in Newcastle this June.
Pete Sturgess' squad will face opposition from USA, Malaysia and Poland in the competition, with three games in four hectic days for each nation.
They kick-off against USA on Thursday 6 June the Sport Central venue at Northumbria University, before Poland are the opposition 24 hours later.
After a day's break on the Saturday, the Tournament finale takes place on Sunday 9 June when England face Malaysia.
It's a good chance for football and Futsal fans alike to see this thrilling format of the game in front of their own eyes with all six games sure to be highly competitive.
---
Why futsal gets a boost from U.S. Soccer
Friday, April 19, 2013


Interview by Mike Woitalla
Play in the U.S. Soccer Development Academy's new U-13/14 age group — with about a 100 teams — begins this fall and futsal will be part the schedule. U.S. Soccer has also started hosting U-14 futsal events, including a 32-team tournament at the Home Depot Center in late April. We speak with Keith Tozer, U.S. national futsal team coach since 1996, on futsal's value to the development of young players.
SA: Why is U.S. Soccer advocating futsal for young players?
KEITH TOZER: One thing I'll never forget is when I was in Madrid for my FIFA [futsal] instructor conference. The president of the Spanish futbol federation opened it up. He said one reason why the World Cup trophy is in the building next door is because many years ago, Spain decided that futsal needed to be part of the youth development in Spain.
I'm extremely excited that now our Federation has stamped it and said it must be part of our youth development. There's nothing but an upswing to what is going to transpire.
SA: How does futsal benefit young players?
KEITH TOZER: Ten or 12 years ago, there was the emphasis of going to small-sided games for youth development. I thought, well, that's just futsal.
What futsal does is it gives you many more touches on the ball. Your technical ability is in overdrive, where you're becoming technically sounder at a quicker pace because of the smallness of the field. With the lack of space, you have to react quicker and think quicker.
I compare it to a golfer. A golfer hits thousands of balls during the week with his driver and only pulls out his driver in a round of 18 maybe five, six, seven, eight times, but hits those thousand balls in order to perfect it.
That's what futsal does in all the aspects: movement off the ball, movement with the ball, dribbling, shooting, proper runs, goalkeeper. It's soccer on high speed.
SA: How does the smaller ball, with less bounce, help players develop skills?
KEITH TOZER: It's funny. In America everything's super-sized. At McDonald's for an extra buck you get bigger fries. At the shopping mall for an extra $5 you get more. In our country, it's bigger is better.
You go outside our country every player wants to play with a smaller ball. Why a smaller ball? Well if you can answer the equation of soccer with a smaller ball, what can you do with a normal size 5?
The [futsal] size 4 ball with little bounce to it stays at a player's feet more and is very inducive to increasing the technical ability of the player.
SA: Futsal also encourages players control the ball by putting the sole of their foot on top of it …
KEITH TOZER: One reason for that is the hard surface. If you receive the ball with the inside of the foot it has the tendency to pop up. Using the sole enables you to relieve pressure away from a defender, to smooth the ball out.
Ten years ago, for an outdoor player to use the sole of the foot in this country, people would frown on it. "Don't use the sole, use the inside or outside or instep." But if you look at some of the top outdoor players in the world, a lot of times, especially when their back is to the goal, they use the sole of their foot. … These are just technical things that are becoming more prevalent now because of futsal.
SA: When you have the sole on top of the ball, you can move it in any direction …
KEITH TOZER: Especially when you have a player on your back, using the sole on top of the ball allows you to hold the ball for a player to run off you or pull it around to shoot.
SA: Compare futsal to indoor soccer with sideboards, which has long been popular in the USA.
KEITH TOZER: I've been involved indoor soccer with the boards since 1978. I love the game, it's a great game. But I think there's an evolution that's coming to the indoor game. It all comes down to the coaching.
[Editor's note: Tozer, who played a decade of indoor ball in the MISL and AISA, has coached indoor soccer since 1984 and has been head coach of the MISL's Milwaukee Wave since 1992.]
About 12 years ago, I started to introduce futsal tactics to the indoor game. In my training sessions, if I play you the ball and I miss you, the whistle will be blow.
Normally in years past, because of your physicality and it hits the boards and you win it back, I actually forget that I gave you a bad pass. Outdoor soccer that's a throw-in. Futsal that's a kick in.
I think the indoor game can definitely help develop a lot of our youth players. It has one more player than futsal and it's got the boards, but there's got to be some modification to it and I think you'll start to see that.
A lot of people like to play the boards. You can have an hour and get as much action as you can. In futsal, obviously you have to have better control. Your passes have to be more precise. The field is much smaller than an indoor field, if you cannot move before or after you get the ball, it's going to be difficult game for you.
SA: Is playing with boards better with the youngest kids because the ball stays in play and you have more non-stop action?
KEITH TOZER: We recently had an ID camp in Kansas City for United States Youth Futsal. What we noticed is when futsal is introduced to the 6-, 7- and 8-year-olds — they are so much more fluid and start working on their technical ability. They were more technical than the older players.
I equate it to if you ever seen a kid 7, 8 or 9 swing a golf club for the first time. It's very fluid. It's beautiful. There's no bad habits. It's not rigid. But if a kid doesn't swing a golf club until 15 or 16, it's ugly.
That's why futsal is so great to introduce early. Yeah, the ball may go out of bounds a little bit, but I guarantee you that month after the month the technical ability will get much better.
That's why I'm so excited that U.S. Soccer said futsal's got to be part of our youth program. We have tremendous goalkeepers, we have great hard-working defenders, we have tremendous hard-working midfielders.
This is another teaching tool in order to get the player who you need to play outside the box … who when he has no other options, can beat three or four guys to score a goal
---
CANADA – RECEIVES TWO WORLD tournament invitations
April 04, 2013

CANADIAN FEDERATION FUTSALON
WORLD GAMES – CALI, COLOMBIA 2013
CANADA – RECEIVES TWO WORLD tournament invitations
By: Victor Medina
TORONTO. – Two international invitations highlight the good relationship the AMF Futsal Canada, chaired by its President Daniel Francisco Cerros to the global organization represented by the World Futsal Association, which for Canadians is an honour.
The invitations received:
A) – II World Championship Women Futsal to be held from 7 to 16 November 2013.
B) – World Games 2013 that show quality will be done in the city of Cali, Colombia, in which are invited 12 countries worldwide, including Canada Futsal, and whose name is PANAMERICA.
II Women's World Championship in July to 16 November 2013
VENUE: Barrancabermeja, ( Colombia ) :
The President of the Colombian Federation of  Futsal , Manuel Enrique Sanchez A, sent a cordial invitation to the Federation Futsal for a selection of the female branch representing Canada in the Second AMF Futsal World Championship Women, in the city of Barrancabermeja, Colombia on dates ranging from 7 to 16 of November 2013.
According to the content of the invitation, dated 25th of February/13, visitors must pay travel and get to Colombia, internal transport to the city of Barrancabermeja and return to the airport of departure, plus food and other distractions in the country, borne by Colombian sports authorities.
2013 WORLD GAMES
VENUE – CITY OF CALI, COLOMBIA
Great news from Colombia highlights the official invitation of the Colombian Federation of Futsal to Canada, to participate in the global tournament called World Games 2013 that show quality will take place in the city of Cali, Colombia, on the celebration of the World Games, with invitation to the following countries:
01 – Argentina.
02 – Paraguay.
03 – Uruguay.
04 – Colombia
05 – Venezuela.
06 – CANADA
07 – Europe
08 – Europe
09 – Europe
10 – Australia, representing Oceania.
11 – Africa – will be decided at a meeting in Taipei.
12 – Asia – will be decided at a meeting in Taipei.
 World Games 2013 Cali
Cali will host different games with two other cities in Valle del Cauca from July 25 to August 4, 2013. The opening ceremony will take place on July 25 in the city of Cali celebrated the 100th anniversary of its founding. The organizers are prepared to seize the moment to promote the breadth of sports in the world, and to make a difference significant for the country, region and city.
The theme for the World Games 2013 is "  FAIR GAME ON THE PLANET  "
Bibliography
http://www.theworldgames.org/the- IWGA / world-games-Cali
http://www.theworldgames.org/the- IWGA / world-games
http://www.theworldgames.org/ the-IWGA / association
World Games
The World Games or the IOC Olympic Games are multi-disciplinary sporting events involving athletes from around the world, and whose tests are not involved in sports Olympics.
They are organized by the International Association World Games]] (IWGA), under the patronage of the International Olympic Committee.
The sports on the program of the World Games are those that are not Olympic sports or were in the past. Participation that could have each competition took into account by the IOC, in its evaluation criteria to select new Olympic sports. There are two types: competitive sport where the athlete fight for medals, and demonstration sport or invitation, in which there is competition for medals. The number of sports in each edition varies because one of the rules of the games is that the host city elected should not spend in the construction of new facilities, addressing only those that already exist.
History of the World Games
The source is the World Games in 1980, when Kim Un Yong, president of the World Taekwondo Federation (WTF Style), invited other leaders of various sports federations, not present in the Olympics at the time to a meeting in South Korea. Kim set out to create new international games for those without representation Olympic sports, with intent to gain more publicity for these competitions. With the intention to be a complementary organization to the IOC, who recognized the new body, the same year he established the Council for the World Games. Later be renamed International Association World Games.
The first head of the World Games was Santa Clara in 1981, and involved more than 1,200 athletes and 18 sports. Since then, games are held every four years and the number of sports, athletes, and countries has increased competition.
Sports
The sports that compete in the games can be anyone who is not part of the Olympics. Some participants in the earlier editions, such as Taekwondo or Triathlon, became official as Olympic sports after and as a result no longer hold competitions at the event. Others recognized by the IOC as the Baseball and Softball subsequently lost his Olympic category and become a part of the World Games. Additionally Olympic sports events held in tests that are not part of the Olympics; this was the case, in some editions, Weightlifting, and women's Water polo.

---
Kurt Hartveldt founder of Norwegian FUTSAL- Doing it his way
IFS run the IFS Indoor concept ("kameratfotball"), October 1998 – Present (14 years 5 months)
IFS is a member of Union Europea de Futsal (UEFS) and Asociacion Mundial de Futsal (AMF), and is responsible for the administration of the Norwegian national futsal team.
From 2004 to 2007 IFS also developed the concept Futsal Elite Scandinavia.
THE IFS INDOOR CONCEPT
Portal – indoor-football.com.
Scandinavian indoor football-league with around 50 nation-wide tournaments as qualifying rounds
Over 25.000 teams have been registered
No recurring obligations – each team has to sign up for every tournament they would like to attend. No running membership
Diversity – both for teams with high ambitions and a stable participation, as well as for teams who focus more on the social aspect of futsal
The indoor football (futsal) tournaments within IFS are open for everyone over 15 years of age. Anyone can form a team consisting of girls and/or boys or men and/or women. The teams participate as often as they like, with no recurring obligations, in around 30-50 nation-wide tournaments every year.
In general, the tournaments are for anyone who enjoys playing futsal, but, primarily the tournaments are arenas for customized indoor football teams. Hundreds of such teams have created their own, individual image, with unique names, and customized futsal suits etc. In addition, an increasing number of teams maintain independent websites which present the players, team statistics, general thoughts and comments etc. Such websites help establish the teams' specific profile, and, along with the main site indoor-football.com, have become channels for communication between the rivaling teams. Important aspects have emerged, such as challenges, and sporty 'revenge' across tournaments, and cities.
---
How futsal can help save Scottish football
Andrew McDougall explains how the South American variant of the beautiful game can help produce players with better touch, passing and understanding.
Whilst watching a Barcelona match last season, a friend of mine commented that goalkeeper Víctor Valdés was probably a better passer of the ball than any of the Scotland international team.
This example might be a little harsh but the general point is valid, it is often commented how Scottish players simply don't have the same level of technique as foreign players, particularly those from Latin countries.
Why this is and how can this be rectified are questions we should be looking to ask and answer. The secret may well lie in the art of futsal.
Futsal is a five a side variant of football, usually played indoors, with a heavier, size four ball which has 30% less bounce than a regular ball. It encourages short passing, creativity, intelligent movement and good technique.
Many Brazilian footballers attribute their skills to the practice of futsal, or futebol de salão as it is called in Portuguese. Witness the trickery and close skills of Ronaldinho, Robinho and Neymar, to name a few, and you are witnessing what was learned playing futsal from an early age. And the intelligent passing and movement of World Cup winners Spain is further evidence of the benefits of fútbol sala, as it is known there. The sport is played professionally most notably in both these countries but also in various others.
Youth football in Britain can place too much emphasis on 11 a side matches, winning at all costs, and does not focus enough on technique or skill acquisition. Introducing young players to futsal could be highly beneficial to their long term development and to the overall standard of player produced by the country.
In futsal, with just four outfield players, the participants learn how to both attack and defend as the formations are not rigid as in 11 a side. It also teaches players to be comfortable on the ball under pressure and in tight situations due to the smaller playing area. Quick thinking and good reflexes are vital, as are a good touch and an eye for a pass.
The game requires constant involvement from all the players on the team giving them a more rounded footballing education, not to mention a good work out. As a defender myself in my youth football days I know it's possible to go an entire practice session or match and barely touch the ball.
I was a defender from age seven onwards – what chance do our youngsters have of developing a rounded game if we are assigning them set positions almost as soon as they start playing organised football? You end up with attack minded players who don't know how to defend when required and with defensive players who lack confidence on the ball. Both these deficiencies can be highly detrimental to the team. It's not that it is harmful for a youngster to learn a position – of course not – but to limit them to that one position could be.
For the advantages of having defenders who are comfortable on the ball look no further than Barcelona's Gerard Piqué; a solid defender who is composed in possession and can spray a pass better than most midfielders. Good football starts from the back and a team at the top level will struggle to play good football if their defenders don't have the ability to pick and play a pass rather than simply hoof the ball up the park. Scottish defenders tend to be better schooled in the latter.
However, even Scottish midfielders and forwards are often lacking the technique, close control and vision that could be learned through futsal.
For those not familiar with futsal, here is a bit more about it. One of the key differences between futsal and the form of five a side football commonly played in the UK is that there are boundaries to the pitch, so passes must be precise and well weighted as there is no wall offering forgiveness. When the ball goes out of play it is returned via a kick in, goal kick or corner kick.
Having played five a side matches in Portugal with boundaries to the pitch I can confirm that it makes a big difference to the way the game is played. There is less margin for error in your touch and your pass and it definitely encourages you to play short passes on the deck and to think more about your movement. The entire game feels more thoughtful, as opposed to the chaos that walled five a side can descend into – that's not to say that futsal isn't fast paced, because it is.
Fouls are heavily penalised in futsal, which helps to discourage foul play and unsporting behaviour. For example, when a team commits six fouls in a match the opposition are automatically awarded a direct free kick.
A common rule in UK five a side that is not present in futsal is that which only permits the goalkeeper to enter his penalty area. This rule seems a little absurd as it cramps play in the middle of the park and encourages shooting from distance rather than working the ball towards goal, the latter of course being what should really be encouraged and is so in futsal.
There is also no "head height" rule in futsal which means you can play a high pass if that is the best option (and it sometimes is – there are no such things as long passes and short passes or high balls and low balls, only good ones and bad ones, as Gordon Strachan used to say) and goals can be scored with the head. The goals used in futsal allow this too as they are two metres tall and three metres wide, as opposed to the wide, short goals commonly associated with UK five a side. Narrower goals also promote build up play over trying your luck with a long range effort.
Ultimately, the 11-a-side game is the pinnacle, I'm not trying to suggest that futsal should overtake it as the principal game we love, play and watch – far from it – but what I am suggesting is that futsal could be of great benefit in learning the game to those wishing to compete in 11-a-side football.
The famous Dutch philosophy of total football demands that every player should be comfortable in every position but how is this possible if kids are exclusively playing 11-a-side football from a young age? In futsal they can develop skills which are transferrable to the 11-a-side game and of value to any footballing position.
Futsal would adapt well to current facilities already available in Scotland, with new pitch markings, goals and balls all that are really required, so there would be no great practical expense in introducing the game to the country on a larger scale. Furthermore, being a predominantly indoor sport its playability is not at the mercy of Scotland's climate.
I'm not trying to pretend that futsal carries all the answers, nor am I naive enough to suggest that if Scotland as a nation simply played more futsal then it would by default produce better footballers, however I believe it is something which could contribute towards that and is worth looking at. A suggestion to the SFA and its performance director Mark Wotte, who does seem to have some positive ideas and confidence for the future of the Scottish game – perhaps this should go alongside them.
You can follow Andrew McDougall on Twiiter @andymcd90
Futsal, Football at its purest


London, ON. – Futsal is a sport in itself that does not compete with football, but serves to enrich it. The Ontario Futsal Association was founded to promote the game and hold annual competitions. It was incorporated in 1993, but has worked as a partnership since 1990. The Ontario Club Championships have been held since 1991 annually for men, women and children. The OFA has a small executive who manages the association which is incorporated under the laws of Ontario as a nonprofit organization profit.
The rules of the game are based on AMF rules we created, because FIFA did not have any rules for playing indoors at the time. They also created the documentary evidence for refereeing exams.
Any club or team can become a member, provided they follow the statutes.
Provincial Championships
Ontario Futsal Association organizes an annual Provincial Championships in Waterloo at RIM Center. This year is March 16-17 for men, women and youth groups. Any team can enter as long as you follow the rules (laws AMF). Teams can register online through the website of the Association of Ontario Futsal www.ontariofutsal.on.ca.
What is Futsal
Futsal is played on a court measuring 40 meters by 20 meters. Four field players and a goalkeeper on the field play. Substitutions are unlimited and the game has two halves of 20 minutes. The ball low bounce and size 4 and lighter than a soccer ball size 5. FIFA and AMF (World Futsal Federation), both support the game and have similar laws, but they do different international competitions.
Futsal is football in its purest form. Futsal is a sport in itself that does not compete with football, but serves to enrich.
It is widely regarded as the means of providing skills development and ideal for the production of technically competent players. There are proven benefits to play futsal develops technical skills of young players, with special emphasis on passing, rebounding and a strict control of the ball.
Ontario Futsal Association
The Ontario Futsal Association provides technical assistance for coaches, referees and administrators. Organize training courses for referee, distributed training manuals and videos.
For those who are interested in the sport of futsal and want to organize a futsal league, contact the Ontario Futsal Association that will give assistance, standards and training guides. The Ontario Futsal Association will guide you step by step, what you need to accomplish to make it possible to create a league.
© LaJornadaCanada
---
Futsal is the key to England ending the years of hurt

FEBRUARY 8TH, 2013 BY ADAM DEACON
With an emphasis on dribbling in tight spaces and tiki-taka style passing, here's why getting the youngsters to play futsal could be the key to England one day reclaiming the World Cup
Futsal is growing worldwide unsurprisingly given its positive influence on football, more countries than ever are playing the sport, with FIFA describing it as the "fastest growing indoor sport in the world."
Futsal is commonly regarded as the reason English footballers lack the technique and aptitude of their South American and even European counterparts. Its a game suited to quick possession passing, there is an emphasis on creativity and flair which would convince a lot of people that futsal is a game for the hipster. Well, that intertwined with the fact that it isn't played by the masses here yet. For some reason having reached the shores of England officially in 2003, the game hasn't really caught on as first anticipated. But this could all be about to change if futsal is introduced to the 2020 Olympics, having disappointingly already been announced that futsal wont feature at the 2016 Rio de Janeiro Olympics.
The game itself was established in Uruguay in 1930 and the rules are simple. It's 5-a-side, the ball is slightly smaller with less bounce, the goals are hockey goals and the dimensions of the pitch are small to say the least. To create a constant style of play, there are only "kick ins" rather than throw ins, players and goalkeepers have to take these within four seconds. There is a strict policy on slide tackles but other than that any normal physical contact between players is fine. The rules set the scene for a battle of technical ability and craft, the lack of space means that players have to be intelligent with possession, which encourages dribbling round the opposition or promotes the player to envision a creative pass they wouldn't usually play in any average game of football. Its a game that constantly has the players involved and touching the ball. The sport is commonly perceived as a training tool for youth players but due to the growth in it globally, there are now professional leagues and international competition.
The nations that excel at futsal start playing at a young age, in a lot of cases all they do is play futsal and don't actually play 11 a side until after the age of ten. The top three futsal teams in the world are Brazil, Spain and Italy. Brazil have been a dominant force in 11 a side football for years. Spain, the current world champions faced Italy in the finals of the Euro's in the summer just gone. Could it be that playing futsal from a young age has honed these footballers technique making them the greats of our generation? There seems to be a correlation between futsal and success in football.
The sport comes with its own seal of approval and is endorsed by the biggest and best footballers in the world; Messi and Ronaldo recognise how futsal has contributed to making them the well rounded players they are today. David Villa played until the age of nine, such is the way in Spain and he still plays with friends now. Villa says "Futsal is a bit more technical than football. I also think that because you play a shorter amount of time, there are different physical requirements, because you need to run constantly." In fact the style in which Barcelona play has drawn comparisons to futsal, Villa accepts this observation, "especially when when attacking with all those short passes between many players, handling the ball well and keeping a lot of possession." Falcao, not the long haired Colombian who leads the line for Athletico Madrid and is setting La Liga on fire with his goal scoring  but Brazilian Falcao, a legend of the game, recently scored a goal that made its way on to footballing websites around the world. It can only be described as an audacious flick from a laid off free kick, much to the astonishment of the players around him. This type of publicity will only help the sport to grow.
Doug Reed plays futsal for the England national team, he plays his club futsal for a team in Serbia as there he gets a professional contract and can train 7 days a week as opposed to two days a week which he did previously at the Manchester Futsal Club. He believes the sport is growing and will continue to do so, "futsal is already established in many parts of the world such as Southern and Eastern Europe and South America. In other places it is growing strongly, noticeably in Asia and Northern Europe. It is already one of the most popular sports worldwide for participation levels. Now it needs to grow in its professionalism and organisation." Reed conceives that in the UK there is very little awareness for futsal. The FA have recognized this and are determined to change this, they have developed the National Futsal League, Youth Futsal Festival, Under 18′s Futsal Championships and a few other projects that are now coinciding with each other. With millions of pounds currently invested in the sport in England in order to open 15 new indoor clubs across the country over the next two to three years the future is bright for futsal.
English football is evolving and in particular the Premiership, physicality is no more, over the past few years tackling has been forced out of the game because most challenges are penalized these days and the emphasis has shifted to intercepting and pressure instead, hence the death of the "midfield destroyer" position. For the most part football clubs in England would only promote youth team players based on their size and strength, however now small technical players are thriving in the premiership but they tend to be the foreign imports, such as Juan Mata, David Silva and Santi Cazorla.
With this in mind futsal is the game required to help English players nurture their technical ability, to bridge the game between them and the leading International teams. For English football it is essential that futsal catches on in order for the sport to be played at a professional level and compete with the likes of Brazil and Spain. It is now recognized as vital in the development of the modern day footballer. The Olympics in 2020 could well be the stage that the sport requires to gain that extra popularity to reach extreme heights.
---
The World Games 2013 Cali
The Organization of The World Games 2013 Cali, to be held from July 25 to August 4, 2013, reports that Futsalon will be one of the sports that will be played exhibition simultaneously in these events orbitals.
The venue for this tournament is to be determined between the towns of Buga and Palmira, which are very close to the main venue of the Games, and will be competing eight (8) men's national teams, the open category.
For the selection of the quintets taking part, will take into account the criterion of World Futsal Association, AMF, with the approval of the Colombian Federation, Fecolfutsalón, the entity that conducted the relevant management to accommodate the microfútbol, as it is known colloquially in Colombia
Welcome to Futsalon for The World Games 2013, the biggest sporting event after the Olympics, and hopefully in the near future may become part of the official disciplines.
Why is Futsal not part of U.S. soccer player development?
by Marvin Carbajal, Director at FWW U.S.A. Corp., Brooklyn, New York
May you have ask why the U.S. has not produced a good soccer player? Tab Ramos was the last play-maker we've had in over a decade. Why?
The reason why Tab was so good was because he grew up in S. America. Many think is the water in S. America but in fact is Futsal. Tab Ramos grew up playing futsal just just like many NBA players grew up playing ball in the playground. Ronaldhino, Kaka, Maradona, Messi, Xavi, Pele all played Futsal. It's just part of soccer development in S. America. The Spanish Soccer federation noted the success of S. Americans teams and bought into the theory that Futsal must be part of every soccer player and the result was an explosion of great soccer players like Iniesta, Xavi, and finally a World Cup title. We must learn that in order to give our best talent a chance we must implement futsal in the early stages of development if not we will continued to produce below average soccer players.
FFA Memo regarding the Australian Futsal Association
8 January 2013
Dear Member Federation CEOs,
The Australian Futsal Association
On behalf of Football Federation of Australia (FFA), I advise that Australian Futsal Ltd of 1391 Beaudesert Road, Acacia Ridge QLD 4110 (AFA) t/as Australian Futsal Association is unaffiliated to Fédération Internationale de Football Association (FIFA), the Asian Football Confederation (AFC) and FFA.
As you may be aware, AFA is a commercial enterprise operating in Australia that runs its own futsal tournaments that are not sanctioned by FFA and organises, promotes and administers its own futsal teams that it designates as 'National Teams', which travel internationally to play under the AFA's designation as an 'Australian Teams'. These teams designated by AFA as 'Australian Teams' are not recognized as official Australian representative national teams by FIFA, AFC or FFA.
As you would be aware, FFA is the only Member Association in Australia recognized by and affiliated to FIFA and the AFC. As the recognized Association in Australia, FFA conducts the National Futsal Championships (NFC) in Australia involving over 1,000 registered futsal players. Only players registered with FFA, and playing in affiliated FFA associations and clubs, can represent their respective Member Federation at the NFC.
FFA also oversees a national men's Futsal team (the Futsalroos) that competes in, amongst others, the AFC Asian Futsal Championships and FIFA futsal tournaments. The Futsalroos recently competed in the 2012 FIFA Futsal World Cup in Thailand.
Further, FFA administers a national futsal player pathway via its affiliated associations and sanctioned futsal competitions, including the Hummel F-League. Additionally, FFA provides futsal refereeing and coaching courses. For example, futsal competitions are encouraged to use appropriately qualified referees who have completed the FFA Level 1 Futsal refereeing course as a minimum. Only referees with these qualifications can officiate at FFA, AFC and FIFA events. No other 'qualifications' are recognized by FFA, AFC or FIFA. FFA's futsal coach education program includes the local delivery of AFC and FIFA courses and FFA's Member Federations are the only bodies permitted to deliver these FFA accredited coaching courses. Currently, a Futsal Coaching certificate and Licence course (community pathway) is available to undertake and coaches may also apply to participate in a Level 1 or 2 AFC Futsal Coaching license (advanced pathway).
We request our Member Federations to advise their members that the futsal pathway provided by FFA and its affiliated associations is the only FIFA and AFC affiliated futsal pathway in Australia.
Please do not hesitate to contact me if you have any queries.
Yours sincerely
Matthew Bulkeley
Head of Game Development
Football Federation Australia
Tel: + 61 2 8020 4060
Fax: + 61 2 8020 4100
Email: Matthew.Bulkeley@footballaustralia.com.au
Martic takes charge of Finnish futsal
Mico Martic has taken over as Head Coach of the Finnish futsal national team, signing a contract until the end of September 2013. The contract has an automatic option for the EURO European Championship 2014, should Finland qualify. Martic follows Jouni Pihlaja, who was in charge from 2005 until the end of 2012.
"After Jouni Pihlaja announced his resignition last fall, we started to look for an internationally esteemed option. We strongly believe that we have now found a suitable person to fulfil our needs to develop our futsal to the next level," says FAF President Pertti Alaja.
As a player, Mico Martic played futsal across three decades, representing Yugoslavia and later Croatia in the Futsal EURO Championships and the FIFA Futsal World Cup. The former national team captain was capped 44 times, and he scored 32 goals for his native country between 1994 and 2001.
I am very happy for this chance to develop Finnish futsal, which has a long history.Mico Martic, new Head Coach of the Finnish Futsal side
Martic has also coached the Croatian national team, as well as club sides in Italy and Croatia. Besides his work in Finland, Martic will continue to coach MNK Alumnus in Zagreb.
"I am very happy for this chance to develop Finnish futsal, which has a long history. My main task is to develop the game at the grassroots level, so that the national team will have solid base for future success", Martic said.
"The national team has a good basis for development even now. The players are quick and aggressive. All these qualities are needed in modern futsal. If Spain can develop their game ever further, I don't see why Finland could not do the same."
For a spot in Belgium 2014, Finland will compete with Italy, Hungary and the winner of Group A in the preliminary qualification round.
US YOUTH FUTSAL WORLD INTERVIEW
Kris Fernandes, founder of Futsal Canada, shares his experiences in Thailand at the Futsal World Cup

Editor's note: Kris Fernandes and the game of futsal go hand in hand in Canada. A Toronto resident, Kris traveled to Thailand for the Futsal World Cup and was gracious enough to answer our questions. You may remember that he brought a group of Canadians — a team that had represented Canada in Brazilian tournaments — to Kansas City for the then-Super F League national tournament. There's no one more passionate about the sport's potential in North America than he is.
Part I
Q: In case our readers aren't familiar with you and your role with futsal in Canada, would you give us some background on your involvement as a coach and organizer? How did you originally become involved with the game?
A: I first saw futsal growing up in Toronto, where we have a very large Latino community, but really only saw its mass potential when I saw it in Portugal years ago. I thought to myself that with the right plan, people and execution this could be the one of the biggest sports on the planet, especially in a winter nation like Canada. After the light bulb went on, I thought about the game constantly and just how much potential it had so the fire kept burning. After seeing how dead the futsal scene was in Canada outside of 3 or 4 major cities, I decided to go all in and help develop it brick by brick. I helped establish a FIFA-rules league here in Toronto, along with helping to establish Futsal Canada, which originally was conceived as a news portal but has evolved into a growing organization of futsal leagues across Canada.
Q: Kris, I'm sure everyone's wondering. How did you get to go to Thailand? A handy-dandy Google search tells us it's 8,465 miles from Toronto, where you're based, to Bangkok.
A: Firstly, I've always wanted to go to Thailand since it has a reputation as one of the most hospitable and beautiful countries on earth. Boy, did it exceed every expectation I had! Everyone must visit it once. When FIFA named the country as hosts, I gave myself a high-five as it was the perfect excuse to take a month off to network and immerse myself in Thai culture.
After Canada and the U.S. failed to qualify, I knew that representation at the tournament north of the Mexican border was going to be practically non-existent and it motivated me even more, to be there and let the futsal world know that we have and love the game back home and can work together to grow it. As for the distance, it's hard to stay excited while in transit for 23 hours, but the huge anticipation of the visit and tournament made it very easy.
Q: How did FIFA's decision not to certify the new indoor stadium for tournament play affect things? How many facilities were ultimately used? Was the scheduling thrown off?
A: Well, the constant delays on a decision and the ultimate choice not to certify it was seen by everyone as a massive blow to the competition and the pride of the Thai people. Even Sports Illustrated covered that. The arena itself looked absolutely gorgeous, but nobody knew because it didn't host a match. Some people blamed FIFA, but it was absolutely not their fault. FIFA's senior manager of five-a-side competitions is Jaime Yarza of Guatemala, and he and his inspection crew made the judgement call and ultimately it was the right move. If the venue isn't ready, it simply isn't ready and FIFA doesn't cut corners on host venues.
In fact, it was unanimous from fans, media and teams that I spoke with that it was better if the games weren't there because it was in a very remote part of northeastern Bangkok that was hard to get to for most people. The other two stadiums were located downtown and in a vibrant student area.
Attendances weren't at full capacity in either stadium — which had less seating than the Bangkok Arena– so it worked out I believe for walk-up sales and for overall attendance figures. I do have to say though that the arena used in Korat, another host city, was simply world class in every aspect. I have a dream of owning a futsal-specific venue for a pro team here in Toronto and one night I was all alone in that arena and walked around, imagining that is precisely what it would feel like.
Q: You mentioned in one of your emails that you were working. Where were you based and what kind of work did you do for the tournament? Were you working for FIFA or some other organization? Tell us what your duties were.
A: I was based in Bangkok, about a 10-minute drive from the Hua Mark Stadium, which hosted the majority of matches. It's in a great area that provided an authentic Thai experience. I had two roles over there: first and foremost, to represent Canadian futsal by networking and collaborating with the top federations, confederations and executives in the sport to see how we could establish working relationships that will accelerate futsal growth in Canada. The other role allowed me to conduct interviews with coaches and players for various media outlets since not everybody had the budget to send people to cover the tournament.
Q: Were there other Canadians or Americans there for the tournament, either officially or as fans?
A: Honestly, I didn't meet a single American or Canadian there and I am the type of guy if I see a U.S. or Canadian flag or hear a North American accent, I'll go over and say hello. Truth be told, people from the futsal community were almost shocked that I was there since they thought neither Canada nor the U.S. cared about the sport. But they were very happy to learn that both Futsal Canada and U.S. Youth Futsal are developing youth leagues and they definitely understand the vast potential futsal has here.
Instead of me trying hard to arrange meetings, various executives were trying to set up meetings with me to see how and what kind of collaborations could be possible. Certainly, I didn't expect that! I learned that the international futsal community is a very unified bunch, almost like a brotherhood. It was incredibly refreshing to be fully immersed in futsal every day for three weeks with others who truly love and believe in the sport as much as I do. I felt very fortunate to be a part of it.
Kris Fernandes, founder of Futsal Canada, shares his experiences in Thailand at the Futsal World Cup
Part II
Q: Can you describe the quality of play overall? From what we've seen, there was lots of offense, but predictably games got tighter as the tournament approached the final. Any thoughts on how the game is progressing?
A: The level of play was outstanding and definitely went up a notch from 2008. The usual suspects like Brazil, Spain, Portugal, Italy and Russia were an absolute treat to watch. When you see the extraordinary skills of guys like Cirilo, Cardinal, Kike, Ricardinho and Falcao, it just energizes you as a fan. Kids in the audience had their jaws dropped for the full 40 minutes and you knew looking at their faces that they were inspired by the top stars in the game. The most thrilling game outside of the final for me was Spain/Iran in the first round since it was just a master class of futsal in terms of skill and tactics.
One thing that was evident — and I actually spoke about it with Spain's captain Kike and a couple of FIFA technical officers — is that everyone agreed the sport was evolving into a much more tactical and systematic game. For example, Colombia are a very young team that lacked experience and as such played a very conservative and defensive style most of the time. That, with discipline and hard work, got them to the semifinals against Brazil. People are a bit fearful that the skill and creative elements are disappearing from the game, but I think that after watching all games from the quarter-finals onward it is clear that the individual talents and entertaining elements of the sport are there more than ever.
Q: I've watched highlights from the games and read a bit. The teams from CONCACAF seemed to have a rough go of it. Was that the case? What's the gap, let's say, between teams in our region and those in Europe, South America and Asia?
A: There is a lot to say about that on many fronts.
First, the competition started pretty well the first few days for the region as Costa Rica beat Paraguay, Guatemala beat Colombia and Panama had a win over Morocco. But after that, CONCACAF definitely had a rough ride. Not a single team finished in the top two in their group and the only team to qualify for the 2nd stage was Panama, and that was only because FIFA expanded this tournament to 24 teams, which meant they got in as one of the top third-place teams. But then Brazil just decimated them and that was the end for the region. The low point for CONCACAF was when Guatemala lost to the Solomon Islands, a team that had lost 16-0 to Russia in their opening game; it was a blow to the region.
I ran into the Mexicans in a mall the day after they lost to Australia and they told me most of them were beach soccer players without futsal experience. So hopefully the lesson they learned there is to discover and select futsal players next time to avoid losing every match.
Now, it was clear that the top tier of European, South American and Asian futsal nations is better than any team in CONCACAF. But as we saw, Guatemala beat a team that made the semis, and Costa Rica beat a very tough squad in the Paraguayans, so the elite in our region aren't far off. Africa still has a long way to go and Oceania is still in its infancy stages as well, but you will see them all evolve eventually.
When comparing Canada and the US to the level of the teams at the World Cup it's very evident that we're falling behind quickly. A primary reason is because we've opted to select a lot of soccer or arena soccer players to compete with these very talented and experienced futsal-specific players. And while right now we can hang with Mexico or Australia, if you put either of our nations up against Spain, Russia, Portugal or Brazil the result would be like watching the Harlem Globetrotters against kids. It's that vast.
There are quite a few excellent futsal players in North America that could play on some decent national sides but didn't get a look for their own national team for whatever reason. That needs to change if we want to compete with the big boys.
I deeply believe that if the MISL changed to futsal tomorrow it'd be the single greatest moment in the history of North American indoor soccer. In fact, Tim Sheldon of Futsal Online wrote a great column about it last week everyone should read. (See Hot Links from the Futsal Griddle to read the article.)
The promising news is that organizations such as U.S. Youth Futsal and Futsal Canada are breeding the next generation of young futsal-specific players and that is what is going to very much help fuel each national program to future success. There will be a day when we turn on the TV and see the NCAA Futsal Final Four, a day when we tune in for Prime Time Futsal on a major network, and within the decade we will see futsal in the Olympic Games.
Right now, most soccer people think of futsal either as a novelty or as a developmental tool for the outdoor game. But those folks need to realize that it's also its own sport and right now in North America the game is merely a snow flake on the tip of the iceberg. But when it does become mainstream here — and it will — then both nations will eventually become powerhouses on the international court.
I can't wait for the day to go to another World Cup and listen to some fans from around the world talk about some player from Kansas City or Toronto like they do about Falcao and Kike today.
Futsal World Cup: Main venue may not finish in time
Date: Friday, September 14 2012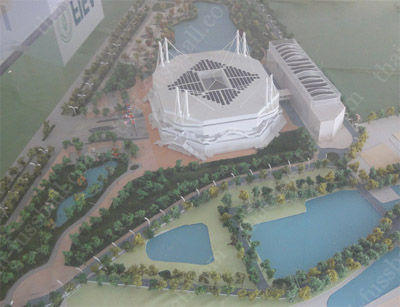 The shades the Futsal World Cup 2012 is throwing, are getting shorter and shorter. Another 48 days remain up to the planned opening match at the Bangkok Futsal Arena. We visited the construction site this week and were sobered.
As of today, 48 days to go up to the opening of the Futsal World Cup in Thailand. Therefore a new multipurpose arena in which, among the rest, the opening games, ceremony and the final should take place, is built in the east of Bangkok. 1.3 billion Baht (approx. 32.5 million Euro) were estimated for the whole project including infrastructure. Construction of the arena started in January this year, and onces finished should be able to hold up to 12,000 spectators.
But in the visit of the construction site this week, and with all due respect, it is illusionary, games can be held there in November under normal conditions. The whole building is still in the shell of building. There is still no roof, the exterior staircases are not ready yet and also the court is not put on yet.
Apart from this, the whole interior finish with media connections and power supply needs to be done and as everybody knows takes a lot of time. Although shifts are on 24/7, you do not need to be an expert to find out that a completion is not possible before the opening of the worlds biggest Futsal event. Besides the whole area around the venue, currently is full of mountains of mud and building materials.
Although one has seen on the example of the new Chiang Rai stadium, Thais can be rather practical. At need, one climbs over construction waste and rather than sitting on bleachers, you put a sheet of paper under your back part, and done. But with the world championship not only Thais are present and Thailand as such would like to put itself in the shopping window. And of course also Thais prefer to sit on clean seats in the end.
But, how do you want to tell foreign visitors they have to climb over the mud? Not to talk about security aspects. Nevertheless, for an international sporting event things should look peachy at least, with planting of grass and paved ways. And one may also want to get into conversation with one or other visitor from time to time.
FIFA have to bear part of the blame
During our inspection we could briefly talk to one engineer. In some way he seemed to be a bit bewildered. But on the flip side you could feel that a give up is not an option for all involved parties. Everybody is willing to give everything up to the last second to accomplish the mission.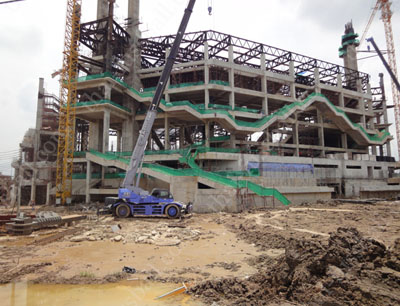 The engineer we were talking to told us: "Although as spectator of the opening ceremony, one don't need to bring a paint bucket along, however, one should not lean upon the walls…" For him, the reason for the delay lies less with the floods last year, but with incapable politicians. At this point, at least, the Thais are not to blame alone. On large parts the "old maid" lies with the FIFA. The world governing body apparently hadn't examined Thailand good enough for feasibility before the final assignment was made in July 2010.
Initially Thailand's plan was to have some games played at the already available "Impact Arena" which can hold a maximum of 10,000 spectators. This proposal was rejected by FIFA a few months after the World Cup was assigned to Thailand, on the ground: the Arena may not be spectator-friendly enough. With all things which are said about Thais in the matter of inefficiency, it must be admitted that it is an outstanding performance how quick the task has been attacked. How fast the new venue has been planned and funding were released. Even in Germany, known for its efficiency, such a project would not have been executed faster.
Plan B?
For an arena comparable of the same size, 3-year construction time was required for SAP-Arena in Mannheim. It took 15 months to construct the Basketball Arena for the Olympics in London and 2 years for the "Copper box" where Handball was played. As Thais are known for to be world champions in improvising, one may be curious on a possible Plan B and how he looks. At current stage it could be the "Indoor Arena Hua Mark", at least for the opening day. But maybe we see the "Impact Arena" back on the agenda, where the "Thailand Open" in Tennis are held regularly.
With the amount of advertisement the Local Organizing Committee around Suwat Liptapanlop is running currently (in Thailand, not to mention abroad), the by far smaller venue Thai-Japanese (3.000) maybe even sufficient at the end. Because so far, promotion is still limited to 50 Tuk-Tuks driving through Bangkok with the World Cup logo, sticker on the interior of the Skytrain above the doors, two colossal balls (one put up in Bangkok and one in Nakhon Ratchasima), as well as two games of Thailand against Spain within the scope of the world championship draw 3 weeks ago.
Anther thrilling point, how to deal with tickets already sold for the opening day and the new Futsal Arena? Did someone acted in foreknowledge and this is the reason why not all tickets went on pre-sale?